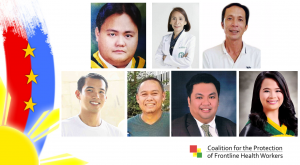 Photos of some of the Filipino health workers killed in the last wave of violence. From top left: dr. Avelex Amor, dr. Harivelle Hernando, dr. Vicente Soco. From bottom left: dr. Dreyfuss Perlas, dr. Shahid Sinolingding, dr. George Repigue, dr. Zuriele Arambulo. Not in the picture: dr. Felix Valenzuela, dr. Amalia Gutierrez, dr. Romeo Subiate | Source: Coalition for the Protection of Frontline Health Workers
---
Michael S. Caampued (BSc, MD, MPM) – a student of our Institute's EuroPubHealth programme and a former community doctor in Philippines – draws attention to the problem of violence against health workers in his home country, commemorating those of them that were killed in the line of duty in most recent wave of violence. 
[PL] Doktor Michael S. Caampued – student naszego programu EuroPubHealth i były lekarz środowiskowy na Filipinach – zwraca uwagę na problem przemocy wobec pracowników ochrony zdrowia w swojej ojczyźnie. Na jego prośbę upamiętniamy na naszym Blogu tych jego kolegów i koleżanki, którzy zginęli w ostatniej fali przemocy.
---
There is a growing spate of violence against Filipino doctors and other health workers, resulting in a number of murders within the recent years. This is creating a resounding blow to the current shortage of health personnel serving especially within areas of the country that are far-flung, underserved, and even torn by insurgencies. Meanwhile, the Philippine Department of Health is still trying to patch this gap by engaging the services of physicians, nurses, dentists and midwives for rural health practice under short contractual agreements, hoping they would later choose to stay.
Unfortunately, the deaths and violations were not isolated events. Health personnel, especially those in the frontlines – from doctors to volunteer health workers – face various difficulties in the performance of their duties. Aside from the implicit personal and professional sacrifices, there are issues on safety and man-made hazards, such as intimidations, harassments, coercions, filing of trumped-up charges, illegal detentions/arrests, and direct acts of violence. All these constitute gross violations on human rights and results in further deprivation of medical services for the people. To date, the country is yet to assess all reports nation-wide to effectively recognize the epidemic of violence against health workers.
Various coalitions of health workers are asserting their RIGHTS TO SERVE, calling upon the national government for:
The full recognition of the human rights situation, special predicaments of health workers and its effects, taking a firm unequivocal stand for the protection of all health workers especially for those working at the frontlines.
Actions in pursuit of justice for all victims of human rights violations among members of the health sector.
Exhaustive and immediate efforts to institutionalize of legal mandates, structures, and programs that will guarantee protection, due benefits, job security, quick response, and overall protection of human rights of all health workers.
| | | | | |
| --- | --- | --- | --- | --- |
| Name: | Work / position: | Death (date and location): | Circumstances / cause: | Case: |
| Dr Zuriele Arambulo | Doctor to the Barrio | Santiago, Agusan del Norte. February 7, 2019 | Hit-and-run vehicular incident after her first day of deployment | Resolved. Perpetrator gave himself up. Probable accident |
| Dr Avelex Amor | Hospital director | Canlaon District Hospital. November 20, 2018 | Multiple gunshot wounds after being hunted down by the perpetrators | Unresolved |
| Dr Harivelle Hernando | Dean of the University of Perpetual Help School of Medicine | Las Pinas City. May 12, 2018 | Robbed, gagged and bound with electrical wire | Unresolved |
| Dr Felix Valenzuela | Former City Health Officer | Bago City, Negros Occidental. December 29, 2017 | Stabbed 13 times by one or two unidentified men | Unresolved |
| Dr Amalia Gutierrez | Local (unregistered) physician | Midsayap, North Cotabato City. October 9, 2017 | Shot by unidentified gunmen riding in tandem | Unresolved |
| Dr Vicente "Jun" Soco | Provincial Health Officer | Province of Dinagat Islands. September 15, 2017 | Gunned down by a man on a motorcycle | Unresolved |
| Dr Romeo Gadot Subiate | Local physician | Tarlac City. July 28, 2017 | Gunned down within own home; robbery and homicide | Unresolved |
| Dr George Repique | Provincial Health Officer | Cavite. July 11, 2017 | Gunned down by assassins riding in tandem after he stepped out of the government hospital he was working in | Unresolved |
| Dr Shahid "Jaja" Sinolingding | Municipal Health officer / Ophthalmologist | Kabacan, North Cotabato. April 18, 2017 | Multiple gunshots from a perpetrator that pretended to be a patient | Unresolved |
| Dr Dreyfuss Perlas | Municipal Health Officer / Doctor to the Barrio | Sapad, Lanao del Norte. March 1, 2017 | Gunshot piercing the heart from an unidentified assailant riding a motorcycle. Killed after coming out of a village medical mission | Unresolved |
These are just those in recent memory and only of doctors that have reached media attention. There are others that were silent killings and others that date back as far back as 36 years. Most notable were:
Dr Remberto "Bobby" dela Paz – a community doctor assassinated April 23, 1982 by a single gunman (case unresolved).
Dr Juan "Johnny" Escandor, community doctor, killed in March 1983 after brutal and fatal torture under martial law (i.e. multiple objects inserted into the skull; case unresolved).
Author: Michael S. Caampued
---

If you want to learn more about the plight of Filipino community health workers and the movements of members of the Coalition for the Protection of Frontline Health Workers, visit their Facebook page