22nd od December 2021
The Europubhealth+ Joint Master Degree in Public Health is a double degree programme delivered by a consortium of 8 European universities and supported by the European Commission's Erasmus+ programme as a Master of Excellence since 2006.
It is a two-year multidisciplinary program offered in a unique multicultural environment. It is aimed at students with diverse backgrounds (clinical sciences, social sciences, management or engineering) with a Bachelor's degree or equivalent, who wish to pursue a career in public health at the local, national or international level.
The training takes place in at least two different European countries and is taught in English, Spanish or French depending on the host university. The first year is dedicated to the core competencies of public health. For the second year, students can choose one of the 7 specializations on offer, corresponding to the key areas of public health.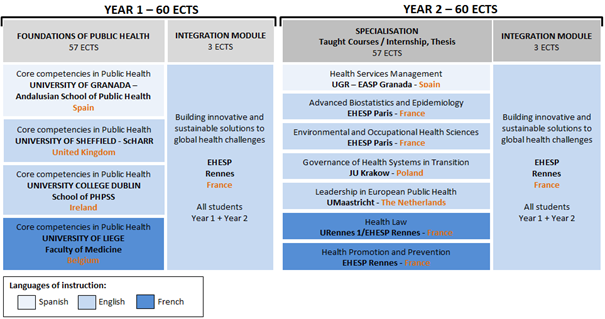 The programme has now trained more than 350 students from 80 different nationalities who are now working as public health experts in public or private organisations across the world. Around one third of Europubhealth+ Alumni pursue their public health training with a PhD programme after graduation.
Coordinating Institution:
Partners:
Andalusian School of Public Health – University of Granada, Spain

School of Health and Related Research – University of Sheffield, United Kingdom

Faculty of Law and Political Sciences – University of Rennes 1, France

Institute of Public Health – Jagiellonian University Medical College of Krakow, Poland

Faculty of Health, Medicine and Life Sciences – Maastricht University, The Netherlands

School of Public Health, Physiotherapy and Sports Science – University College Dublin, Ireland

Faculty of Medicine – University of Liege, Belgium
Admission Criteria
To be eligible, applicants must fulfil the following conditions:
Awarded Degree:
Upon completion of the 120 ECTS credits, students receive a double degree (two national Master's degrees) delivered by the universities which hosted them during their first and second year, as well as a Europubhealth+ achievement certificate and joint diploma supplement delivered on behalf of the whole consortium.
Participation Costs:
Participation costs for the 2-year course are as follow:
11000€ for European students

16000€ for Non-European students
Applications:
Applications Deadlines for September 2022 intake:
12th January 2022 for candidates applying for an Erasmus Mundus Excellence Scholarship.
2nd March 2022 for Non-European candidates applying for the University of Liege (Belgium) as self-funded students.
10th May 2022 for all candidates applying as self-funded students.
More information :
Facebook: @europubhealth
Instagram: @europubhealth
Twitter: @EuroPH
LinkedIn: www.linkedin.com/school/europubhealth/